Periodic Table
An "image map" periodic table and short notes about many isotopes and their applications has been created to help illustrate the uses of assorted isotopes in hydrology, geology, and biology. More thorough contributions are very welcome.
Operation: To obtain information about a specific element in the period table below, click on the "button" of that element. Only elements in yellow are currently enabled. NOTE: you must use a graphics-capable browser to view the image map; otherwise, you must use the alternative access page. To search for specific information using keywords, you may also use the local search engine.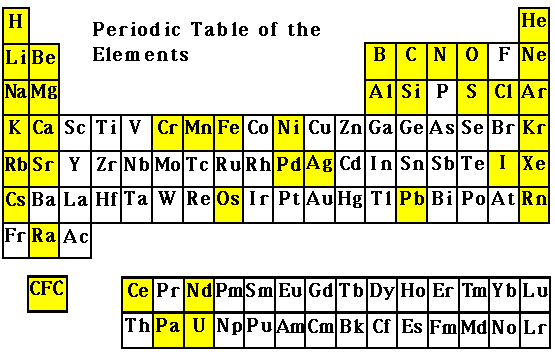 About the Periodic Table
This table (with information about the applications of selected isotopes) was put together by Carol Kendall, Eric Caldwell, and Daniel Snyder (U.S. Geological Survey, Menlo Park, CA). Corrections, suggestions for improvement, and additional text and references should be sent to ckendall@usgs.gov.