What is a Food Web?
A food web is a diagram of the links among species in an ecosystem – essentially who eats what. A food chain shows only the organisms that contribute to the diet of the top consumer.
Figures 1 and 2 show examples of typical terrestrial and aquatic food webs, respectively. The triangular diagram in Figure 1 is an example of the main components of a food web.
The base of a food web is occupied mostly by vegetation (producers) and fine organic debris (decomposers).
Herbivores (primary consumers) and carnivores (secondary consumers) occupy the higher levels.
Omnivores occupy an intermediate level in the food web.
Food webs are complicated by the fact that many species feed at various levels.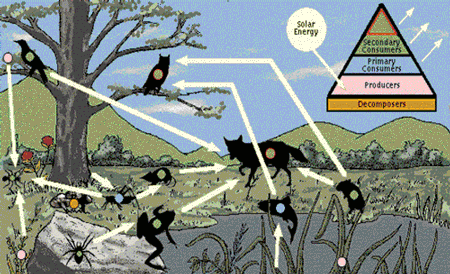 Fig. 1. This diagram shows the relations between typical terrestrial organisms. The arrows connect the prey (diet) to the predator (consumer). The colored dots on the animals are coded to the colors in the triangular diagram at the upper right. View larger image